Summer School HoBid 2022
The Summer School HoBid was organized by Prof. Dr. Carla Bohndick together with Prof. Dr. Tobias Jenert and Prof. Dr. Ingrid Scharlau (both Paderborn University) and took place at Hamburg Center for University Teaching and Learning from September 5th to 9th 2022.
Teaching and learning at universities are addressed by many disciplines that are diverse in terms of content and methodology. Current research in higher education can be described as a multidisciplinary, but hardly as an interdisciplinary field of research. Doctoral students in this field often feel that they do not really belong to any of these disciplines concerned with teaching and learning in higher education. This situation represents a major challenge for researchers in German-speaking countries – and this despite the fact that their research is clearly necessary for critically observing and understanding the many teaching-related innovations at universities.
Impressions of HoBid 2022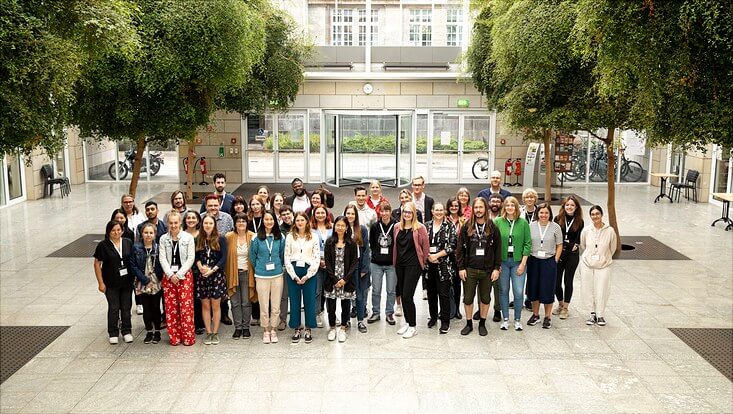 Foto: UHH/Steinhauser
The participants and organizers of HoBid 2022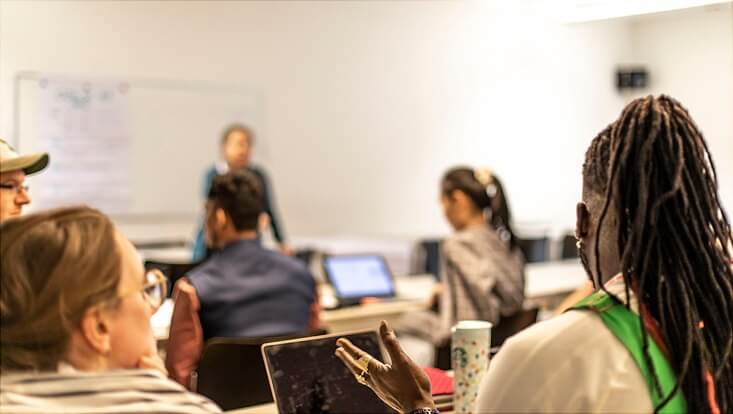 Foto: UHH/Steinhauser
Foto: UHH/Steinhauser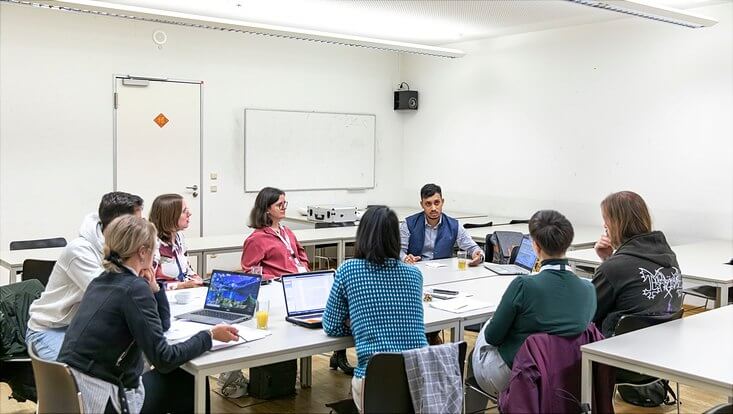 Foto: UHH/Steinhauser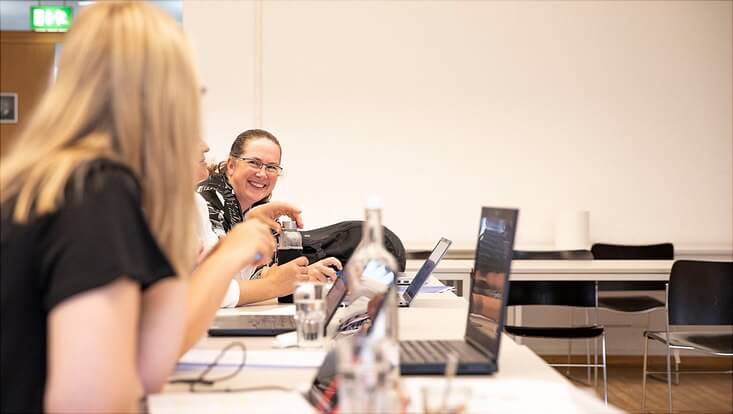 Foto: UHH/Steinhauser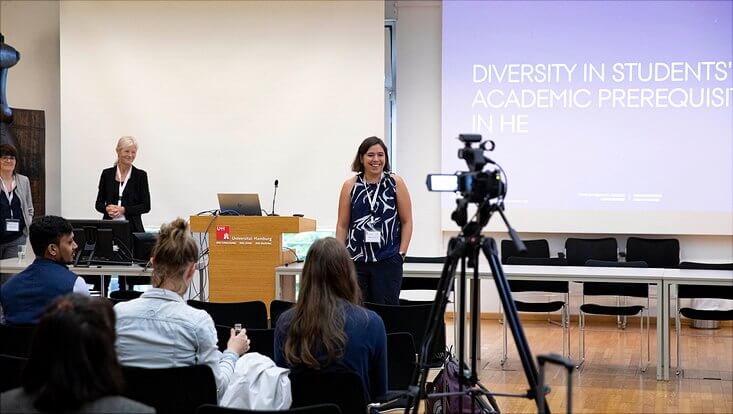 Foto: UHH/Steinhauser
Carla Bohndick (right) with keynote speaker Tina Bering Keiding (middle)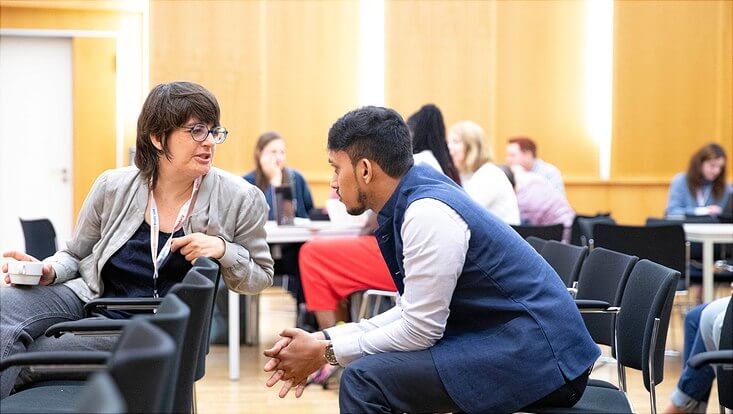 Foto: UHH/Steinhauser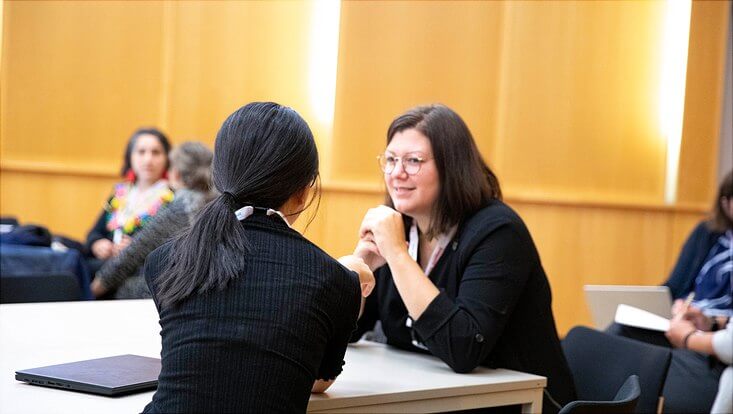 Foto: UHH/Steinhauser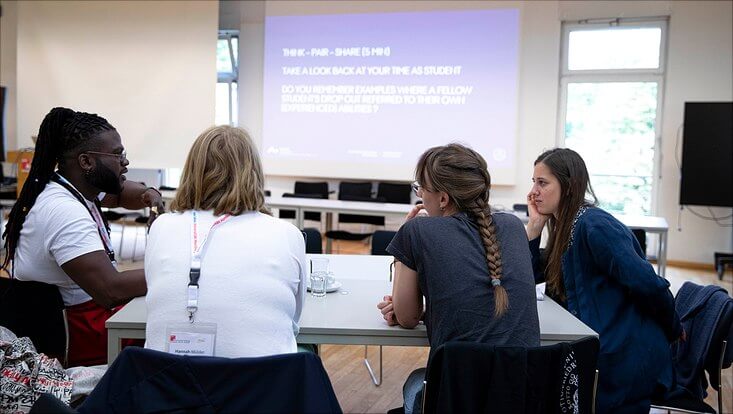 Foto: UHH/Steinhauser
Aim
The aim of the Summer School is to offer young academics in higher education research a platform for working on their projects, further education and networking. It is aimed at researchers from all disciplines who deal with challenging education-related issues at universities. Objectives for the participants are:
to develop their project and especially work out their individual methodological or theoretical contributions to interdisciplinary higher education research. In small groups, the researchers will analyze, criticize and substantiate their own and others' approaches and, in particular, identify lines of development of their projects. In addition, one's own work will be rethought in the context of other approaches (complementary, supplementary or advanced theories, models and methods).
interdisciplinary expansion of perspectives. By comparing different disciplinary points of view, understanding for other scientific approaches will be broadened and reflection of the assumptions as well as limitations of one's own disciplinary approach will be stimulated.
networking and strengthening the professional community. In addition to the young researchers, established international scientists are invited and there will be many opportunities for exchange.
Program
The five-day program focused on integrating the main topic of diversity in different working formats and allowed the researchers to observe diversity from an interdisciplinary perspective. Renowned senior researchers have given keynotes, workshops and facilitated discussions (among them Liesje Coertjens, Rachelle Esterhazy, Miriam Hansen, Tina Keiding, Alexa Brase, Eileen Lübcke, Carolina Guzmán Valenzuela, Anna Heudorfer, Stefanie Lichtenfeld and Nicole Tieben).
The agenda was as follows: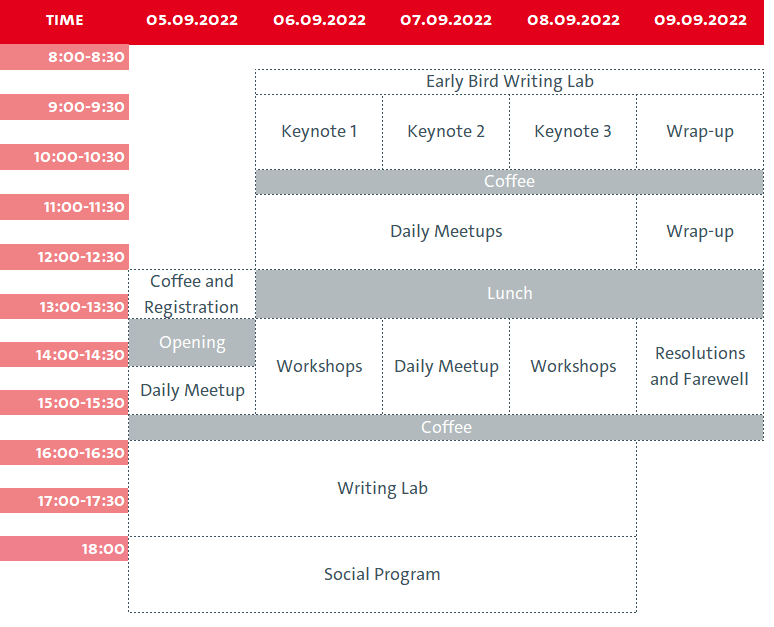 The program agenda was structured to create a balance between one's own project while interacting with others and building networks. It consisted of the following elements:
Writing labs were for concentrating on a researcher's own projects. Every day started with a morning coffee in the early bird writing lab and ended after the writing lab
The keynotes illuminated the topic of diversity from different perspectives
Method workshops introduced methods to analyze and deal with diversity in research

Carolina Guzmán Valenzuela: Decolonising the curriculum: the role of positionality in research
Lukas Sonnemann: Research Ethics – Basics, frequent challenges and common questions in designing and conducting research 
Stephanie Lichtenfeld: Open Science Workshop
Karola Cafantaris: Methodological Approaches to Observing Learning and Diversity in Higher Education
Anna Heudorfer: Participation in Higher Education Research: How to involve diverse target groups in your research design

Daily meetups created a space for junior researchers to reflect diversity in their dissertation projects and exchange opinions.
Last but not least, summed up with a wrap-up session and closed the summer school after a resolution space.
Diversity
Diversity is not only a necessary frame when explicitly claimed, that is, when researching non-traditional students, but the foundation of today's higher education landscape with lecturers and students in diverse life situations, with diverse abilities and expectations and a diverse handling of situations in diverse disciplines and increasingly diverse higher education institutions. Therefore, understanding diversity is relevant for almost every research project on teaching and learning in higher education. As higher education contributes to a responsible development of the society, it is necessary to see that diversity as a potential for innovation in research and teaching, not only as a problem to be solved, but to acknowledge diversity when bringing research from different contexts (e.g., countries) together and to work on inequalities.
Location
HoBid 2022 took place on-campus in Hamburg. Housing and travel costs were covered by the Summer School.
Funding
The Summer School is funded by the VolkswagenStiftung. Housing and travel costs are covered by the Summer School.
Next HoBid 2023
The next Summer School HoBid will take place from the 11th to the 15th of september 2023 at the University of Paderborn. Further information can be found here.
HoBid 2019
The last Summer School HoBid took place at the University of Paderborn from September 16 to 19, 2019.